Do you know how many pollutants YOU are surrounded by when driving in the city?
We spend more and more time in the car. With each breath, a culmination of smog, allergens, dust mites, pollutants, and other harmful substances can be drawn into your lungs. Because your respiratory system is unable to filter these particles, how can you protect yourself and those around you from dangers too small to see? That's why we need a car air purifier.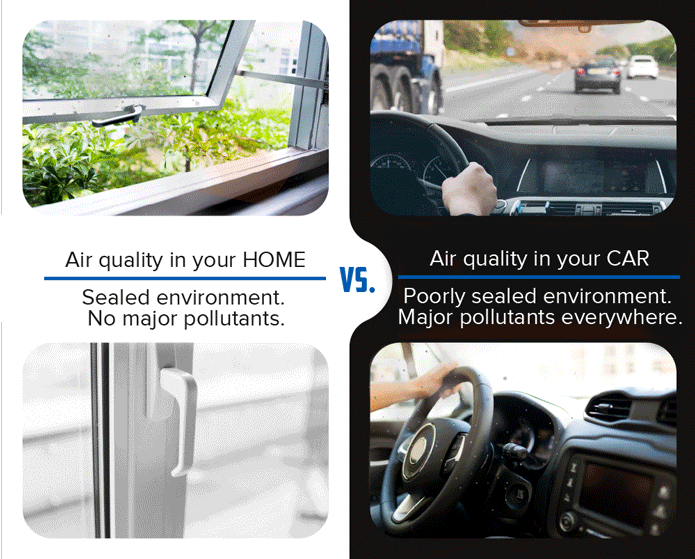 THE V5 IS THE SOLUTION.
THE MOST ADVANCED CAR AIR PURIFIER.
The V5 solves all the problems with current HEPA filters using advanced TPA filtration which is only available in Airdog products.


The Airdog V5 car air purifier is an innovative car air purifier solves all the problems with current HEPA filters using advanced TPA technology. With an impressive CADR of 14.8 m³/hr (equivalent to 14800 liters per hour), the V5 can fully filter and clean dust, pollen, dander, smoke, odors, mites, bacteria and viruses in a large SUV within a matter of minutes.
Two Pole Active (TPA) technology is an active filtration technology, which is different from HEPA passive filtration technology. TPA was based on Ionic Wind, and optimized for air filtration. V5 applies TPA in a smaller form factor. The electrical filtration enables its high collection efficiency and bacteria-killing capabilities.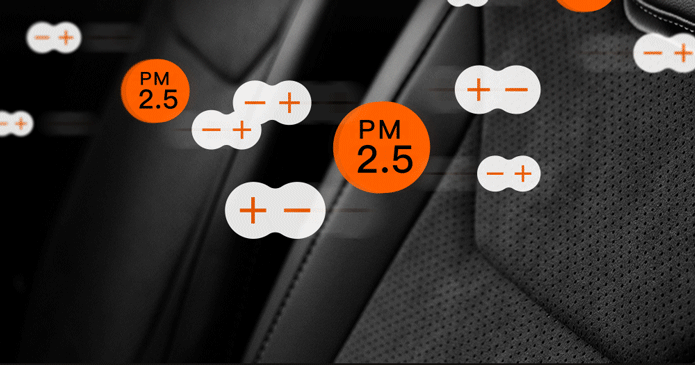 1. Active filtration technology (TPA)
The Airdog V5 car air purifier not only cleans & filters down to 0.01 microns, our active air filtration technology (TPA) effectively sterilizes & kills bacteria/viruses while filtering.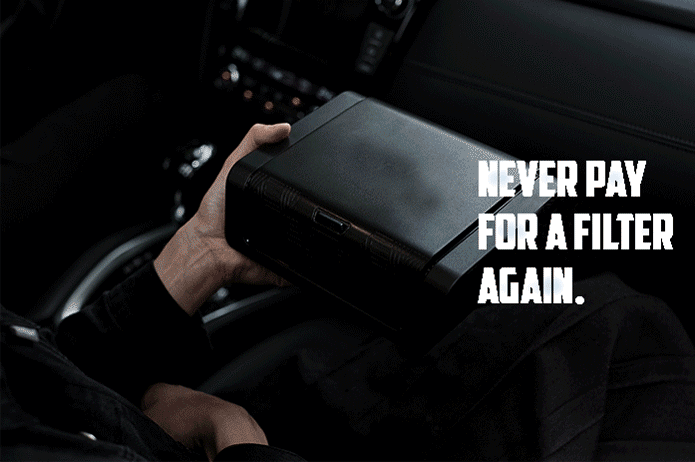 2. Washable Filter Design
Never pay for a wasteful filter again. Easy to take out and easy to clean. Save money and the environment.

3. "SMART" Cleaning Internal Notifications
The built-in sensor allows the device to sense how dirty the collecting plates are. The device will give dash notifications when it is time to clean.

4. Control airspeed and noise
The V5 built-in controls for airspeed and noise. When you would like to change air flow speed, change it to manual mode and then just click once, twice, or three times to control the speed and settings.

5. Small and portable design
Besides using the Airdog v5 in vehicles, you may also use the v5 car air purifier in small spaces such as your cubicle, bedroom, closet, co-working area, etc.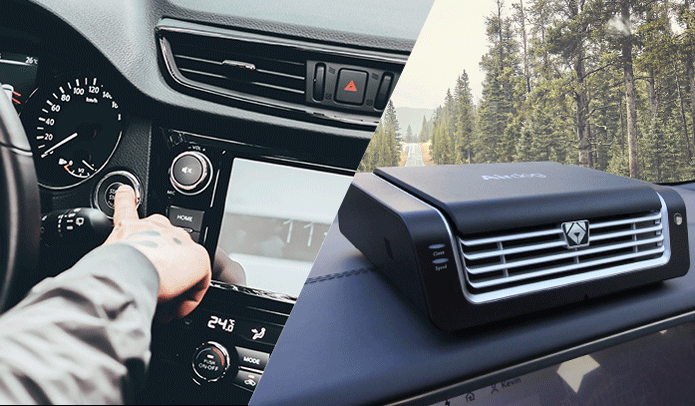 6. "SMART" Motion Activated features
Our V5 car air puifier smart technology turns the device on when you start driving. No need to manually turn it on under "auto" mode!

HEPA air purifiers only collect dust and pollutants. But collecting does not mean cleaning. The accumulated pollutants will grow on HEPA causing unpleasant odor, and dangerous sanitary issues.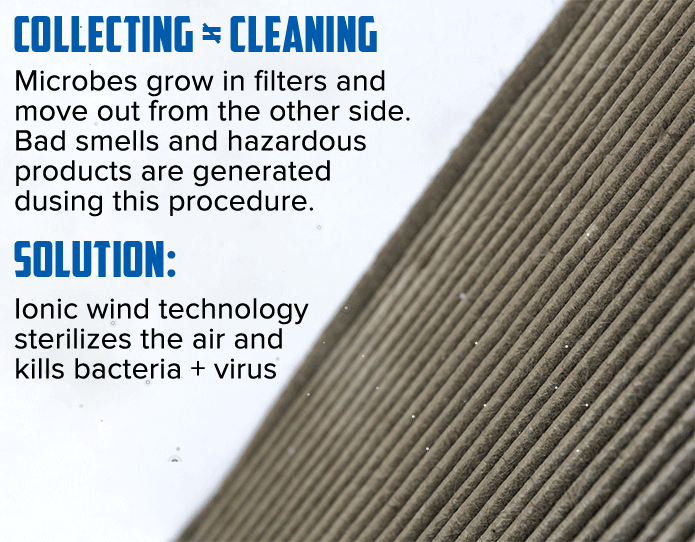 HEPA air purifiers lose 50% efficiency after trapping 45 cigarettes worth of smoke pollutants.

A technical term called CCM (Cumulative Cleaning Mass) defines how many pollutants a HEPA filter can trap before losing 50% efficiency. Lab researchers have quantified that 45 cigarettes would make a typical HEPA filter fail.
As a comparison, Airdog's cleaning capacity only drops only 0.2% after 440 cigarettes!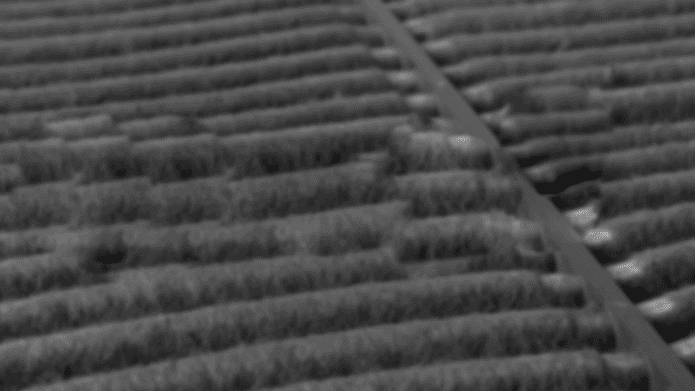 HEPA air filter replacements will cost an average of $500 every 12 months, and around $2500 during the lifespan of the product.
The Airdog TeslaAir non-consumable collecting plates are washable by hand, saving you on the cost of buying unnecessary filters. Enjoy an average savings of ~$500 every 12 months (~$42/month). No more wasteful & expensive filters.

Current HEPA air filters contribute waste pollution and environmental damage. HEPA filters are not recyclable. Most will live their days in landfills alongside trash. Let us avoid the age of "Wall • E"...
Filters up to 14,800 liters Per Hour!
V5 ONLY REQUIRES 10 MINUTES:
With an impressive CADR of 14.8 m³/hr (equivalent to 14800 liters per hour), the TeslaAir can fully filter and clean dust, pollen, dander, smoke, odors, mites, bacteria and viruses in a large SUV within a matter of minutes.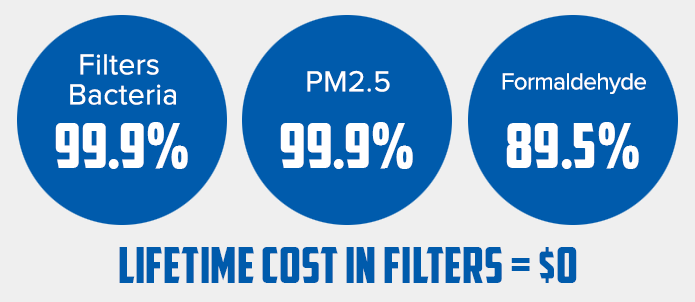 The TeslaAir is the very first car air purifier that is washable. For longterm & daily usage, just wipe once every 2 months, set and forget.
It takes 1 minute to clean the collecting plates. Just wipe and go!
V5 EFFICIENT PLACEMENT OPTIONS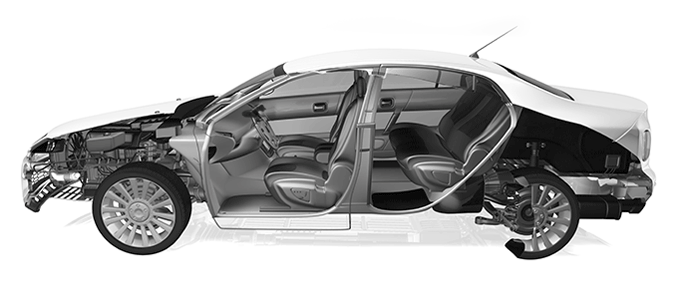 This is the main recommended placement area for maximum filtration efficiency. Most particles enter through the front heating/ac vents and travel to the back of the cabin.

This might be the best option to maximize filtration in the area around the backseat.

This is recommended to minimize the noise level and to filter any particles coming from the trunk or back area.
Emitter wires generate high energy plasma: Killing bacteria and destroying formaldehyde and TVOC.
The charged particles are accelerated under a high voltage field and move toward the collecting plates.
The collecting plates catch the PM 2.5, dust, dead bacteria, and toxic particles.This process repeats and cleans the air inside your vehicle.
The collecting plates catch the PM 2.5, dust, dead bacteria, and toxic particles.
This process repeats and cleans the air inside your vehicle.
How Does The TeslaAir Compare with our other products?
The choice is clear. TPA filtration is the future of air purification. No extra costs and no wasteful filters. Save $$$ and the planet.

Professionally Lab Tested & Certified


SGS - Suppression Effect of Formaldehyde >99.1% | SGS - Suppression of the Total Volatile Organic Compounds >99.9% | SGS - Suppression Effect of PM2.5 | SGS - Suppression Effect of Total Bacteria Counts >99.9%




Airdog V5 Car Air Purifier
From box to plug, this air purifier is that simple to use. It is very well made and comes with an easy to understand manual. Highly Recommend.
Airdog V5 Car Air Purifier
The air purifier has a clean design which looked nice with the black interior of my car. With its elegant design it did not stand out too much, although it would have been nicer if the size was a little smaller as this can get knocked down when the passengers are moving about. The power cord connects to the cigarettes lighter port of the car.The air purifier has three settings- low, medium, and high. During operation, it is quiet and extremely smooth. With the usual cabin noise the sound of the purifier is completely drowned out. The air flow from the purifier is also light and does not disturb at all. A big advantage with this air purifier is that the filer can be cleaned and reused. I really liked that compared to other purifiers which require a filter replacement often. Moreover, the purifier automatically lets you know when its time to clean.My main reason for getting this was to reduce dust build-up in my car during my drive to work on a dusty road. I also wanted to reduce any odor in the car, as I eat often inside the car on my way to work. After initial testing and light use I think the dust build-up shows noticeable reduction. The odor on the other hand did not reduce much.Overall, this is a great product to control dust and pollutants in your car, but with a few negatives especially considering its price.
Airdog V5 Car Air Purifier
This is an air purifier that works by trapping bacteria and dust etc without filter changes! It looks pretty good and the appearance integrates well with the inside of a car, its rubber feet are designed to keep it in place but nothing is included to firmly attach it to your car.The air purifier includes cables for cigarette lighter, and draws about 5W at max speed. I've been able to power this from a wall USB charger, and power bank in addition to a cigarette port.Putting it on my desk and pointing it to my face, its like having a small fan. I don't feel that the air is any warmer than the ambient environment. The air here is pretty clean so I don't can't say for sure that it has any effectUnlike other car accessories such as dash cams, the air purifier does not turn on as soon as it is powered which is how it should've worked. If set in auto mode, it will turn on whenever it senses motion, I had to shake it pretty vigorously to get it to start running so if you have an electric car it might not even start until the vehicle drives over a bump. In auto mode, speed is adjusted based on air quality.If you set it in manual mode, when you connect power it will stay off until you press the toggle button. The first setting is medium, press again for high, press again for low, long press for 3 seconds then release the button to turn off (the unit will stay on until you let go of the button). One thing I don't like is even in manual mode it appears to automatically shut off after a period of time?Opening it up to clean isn't very intuitive but the manual is well written and you won't break anything as long as you are gentle. The collection plates are a bit more durable but the ionization wires are more fragile. There is an automatic cleaning reminder, I am not sure if its is based on date or accumulated runtime. It likely isn't based on any sensor reading because you have to manually reset the air purifier after cleaning.In terms of value, this air purifier is pretty pri.
Airdog V5 Car Air Purifier
i really do like this air purifier-- it works really very quickly. We had some food odors in the car that dissipated in about an hour after using this. None of us smoke anymore, but I wish we would have had this when we did!It does seem like it's much more expensive than similar products, but there are no air filters to buy once you have it. You clean plates, you never have to search for air filters, and this makes it extremely cost effective. I know our indoor air filters are quite expensive and my other car's air purifier's filter is over $25 when we need to replace it.This one looks sporty, sits evenly where we put it (I'd never put it on the dashboard as others have done) and has a very low center of gravity, which I like. It really does seem to pull the dust right out of the car, and my car definitely smells fresher everytime I enter it. Highly recommended.
Airdog V5 Car Air Purifier
When I ordered this, I was like, it's not gonna fit. But took a chance. I'm glad I did, because it fits on the armrest right between the front seats perfectly. Almost looks like it's made to be there. And if I need the armrest, it fits on the hump between the seats.I opened her up and took a look inside. I happen to own a few of the iconic Ionic Breeze Quadras, which I love (at least until it's time to clean them). The technology that this air cleaner consists of is very similar to my Ionic Breeze Quadra, except add a hepa filter and a blower. So I'm hoping this really does the trick. I may take my air quality meter for a ride with this and see how well it does with some actual testing. But...yeah, gonna wait until it gets a bit warmer first. It has multiple speeds, and while high is definitely noticeable, medium and low are much more tolerable. I would save "high" for when you're smoking or shortly after, or during dusty conditions or when air pollution levels are elevated. Because of it's size, it uses smallish fans which tend to whine at max speed.I want to be able to test it without the influence of the heater or A/C system going so I can get an accurate measurement of the particulate count (my meter does PM2.5 and PM10). I run air cleaners in this room, and my meter is exceptionally accurate. My in-house air quality is usually at the bottom of the scale on both counts, 0003ug/m2 P2.5 and 0005ug/m2 P10. To say I like clean air (and water) is an understatement. I'm hoping for similar results with the Airdog. I'll let you know this spring when the weather is right for not running the blower in my car.So soon as I can get some empirical data to put out here with my air quality meter, I'll update this review. Right now, I really like it. The technology in it is familiar to me and proven, it actually fits in my car easily, and on medium or low you can barely tell hear it over road noise.